The wildlife biodiversity in Northern Uganda is most astonishing. Tourism watchers say northern
Uganda is steadily becoming an attractive tourists' destination. With the return of peace to the war-afflicted region, a number of tourist sites, both historical and natural are opening up for tourists. Some of the major tourist attractions being promoted are forts Patiko and Wadelai, Luo migration reconstruction, Luo royal sites in Zombo and Nebbi, natural sceneries like landscape, falls and hot springs. Also to be promoted are culture, music, dance and folklore like of the Karimojong and Nubians, the birthplace of Olympic gold medalist Akii Bua and much more.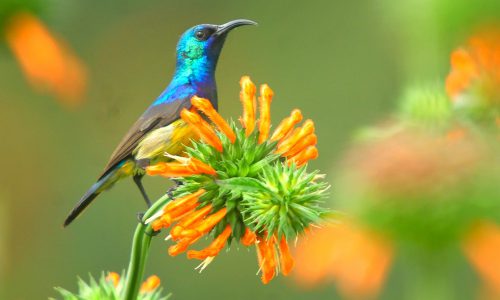 Birding
At Green Oasis Guest House, you get to enjoy a vast species of birds in Uganda. Uganda is an Ornithologist's and birder's Paradise. Over half of all bird species in Africa can be found in Uganda making it the richest African birding destination.
Though Uganda has only one Endemic bird (Fox's Weaver), 23 Albertine Endemics occur here and are difficult or even impossible to find somewhere else. In varied habitats in Uganda over 60% of the 1,008 species of indigenous and migratory birds recorded in Uganda. Amongst the discerning ornithologists, Uganda has for long been the best kept secret in terms of its plethora of bird species with over 1,000 on record. Click to Read more...
These are Handsome Francolin, Rwenzori Turaco, Rwenzori Nightjar, Dawrf Honeyguide, African Green Broadbill, Red-throated Alethe, Archer's Robin-Chat, Kivu Ground Thrush, Grauer's Rush Warbler, Red-faced Woodland Warbler, Short-tailed Warbler, Grauer's Warbler, Collared Apalis, Mountain Masked Apalis, Yellow-eyed Black Flycatcher, Rwenzori Batis, Strip-breasted Tit, Purple-breasted Sunbird, Blue-headed Sunbird, Regal Sunbird, Strange Weaver, Dusky Crimsonwing, and Shelley's Crimsonwing.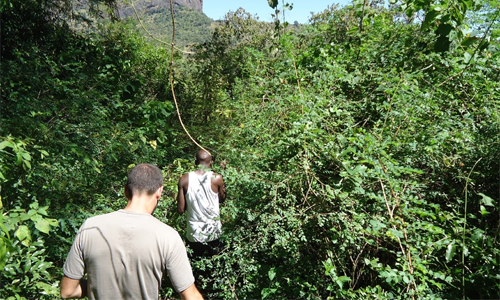 Forest trekking
At Green Oasis Guest House, we do have thick and moderate green forest with attractive tall trees, deep valleys Spectacular birds, baboons, monkeys and other friendly animals.
The forest is surrounding the Guest House and gradually ascending towards the hills. 2 tour guides to take Guest around with minimal cost.
A less common and unexpected-sighting in this area is the Giant Forest Hog, Africa's largest pig, which is usually associated with dense forests rather than semi-open thickets.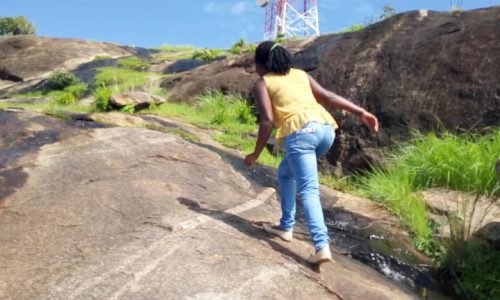 Mountain climbing
Green Oasis Guest House is surrounded by four categories of magnificent hills that include Steep, gradual, moderate and flat terrain. Starters can begin with flat terrain climbing and continue gradually up to steep terrain. Four experienced tour guides are available to support and take Green Oasis Guest House Guests to various hillsides available at minimal and affordable costs.
We do have spectacular snow formation on top of mount Parabongo overlooking the Guest House. Mount Parabongo has a volcanic cavern which provides constant supply of natural Mineral water down the hill.
Mountain climbing is the sport, hobby or profession of hiking, skiing, and climbing mountains. Click to Read more...
While mountaineering began as attempts to reach the highest point of unclimbed big mountains it has branched into specializations that address different aspects of the mountain and consists of three areas: rock-craft, snow-craft and skiing, depending on whether the route chosen is over rock, snow or ice. All require experience, athletic ability, and technical knowledge to maintain safety.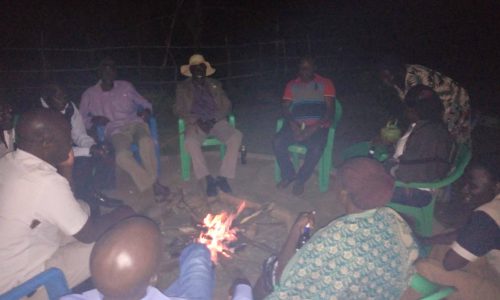 Camp Fire
Evening campfire activities, including stories, sing-alongs among others, are complimentary to Guests of Green Oasis Agago at many locations.
Games and other activities
At Green Oasis Guest House, we do have indoor games like ludo, Draft, Darts, etc and other entertainment activities like watching national and international football through DSTV, cultural dance & drama to entertain Guest occasionally or when need arises.

Tap the Link Below for Tourism.
You have questions regarding our services? Please feel free to contact us. We are always available 24/7.