Green Oasis Guest House has a quiet, decent and comfortable accommodation with breakfast to meet both national and international standard. We provide English, traditional and other meals on order. Room service available on request.
We have the following types of accommodation available at Green Oasis Guest House:
In our standard single and double rooms, and suites at Green Oasis Guest House, you will find a simple safari atmosphere with a level of comfort that will not disappoint.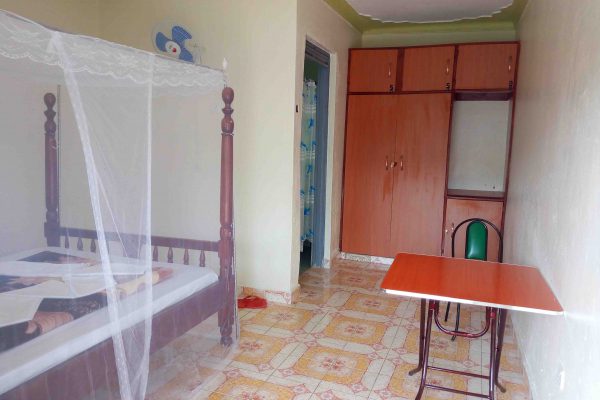 These rooms are perfectly situated with a panoramic view of the neighboring hills and forests. One can also view the vast wild life and ecosystem surrounding the Guest House.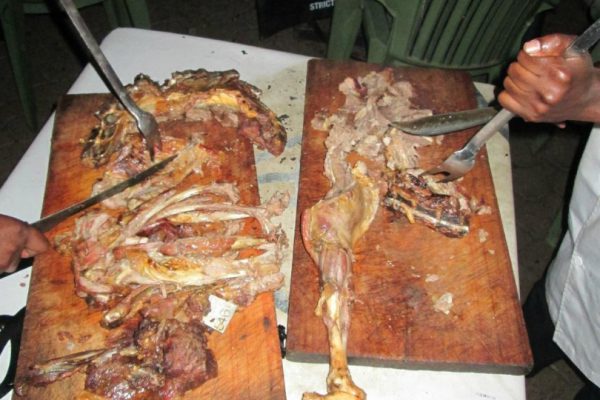 Guests at Green Oasis Guest House may choose to dine indoors in our elegant, formal dining room, or outside on the veranda, where the setting is enhanced by spectacular panoramic views.Treat yourself to the mouth-watering menu of local and international specialties produced by our experienced chefs. Special barbecues and traditional dancers make a Saturday evening at Green Oasis Guest House an occasion to remember.
Note: Do let us know in advance if you have special dietary requirements, and we will be happy to cater for them.
The Oasis bar: Green Oasis Guest Houses and Tours has a well-stocked bar with customized bottled mineral water, assorted alcoholic and non- alcoholic certified drinks and a cozy lounge where you're welcome to wile away your afternoons and evenings or gather around the open fireplace and relive the highlights of your Uganda tour. The bar verandahs are a perfect place to relax after a day out in the national park. The décor and furniture represents a bygone era of early explorers, synonymous with the term 'safari'. The Bar has panoramic view overlooking the ecosystem and surrounding hills. Enjoy the shimmering sunset over the lake, whilst drinking a wonderful sundowner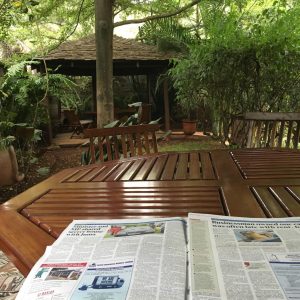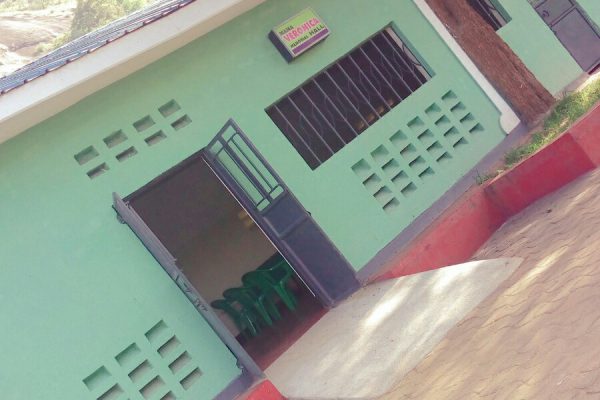 Imagine your next conference miles away from the hustle and bustle of the choking city. Guests will find a fully equipped, air conditioned conference room and an elegant board-room to service all your business or workshop needs. Green Oasis Guest House has a modern conference hall with all the necessary facilities to conduct workshops, conferences, meetings etc. It also has Gardens for Parties. The Gardens can sit up to 1000 people, ideal for small, medium sized and large parties. Note: Please pre-arrange events with reception prior to arrival.
Green Oasis Guest House has become the ultimate, intimate 'bush break' venue from small private parties to weddings and formal gatherings. Green Oasis Guest Houseindoor and outdoor conference facilities can be configured to meet clients' precise requirements.
For exclusivity and privacy, conference groups are encouraged to take over the entire Guest House for the duration of their stay. Ideal for smaller breakaway group working sessions or for 'open air' conference meetings can be organized, where the only distraction may be the occasional visit of the Beautiful birds, primates like monkeys or other game!
Imagine your next conference miles away from the hustle and bustle of the choking city.
Why not enjoy the peaceful surroundings and wide open spaces of the secluded forest and hillside ambience at Green Oasis Guest House? If you are planning a conference Green Oasis Guest House offers state-of-the-art conferencing facilities guaranteed to make your meeting experience pleasurable and as comfortable as possible.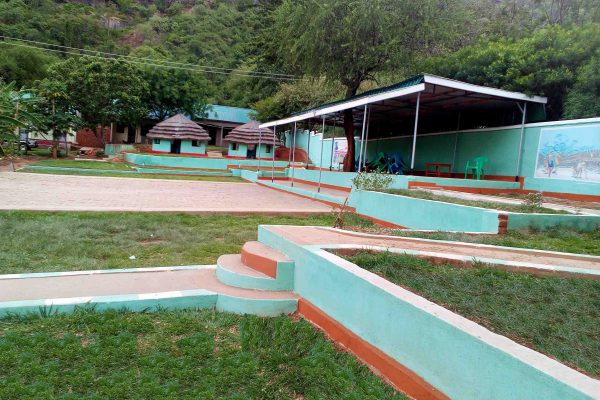 As far as romantic backdrops go, they don't come any more spectacular than at Green Oasis
Guest House. Everything about the place seems to provide a thrilling accompaniment to a romantic holiday, an experience you will never forget. Perhaps let us plan a wedding for you at Green Oasis Guest House and we will ensure that this once in a life time experience will leave an indelible experience to a start of a relationship.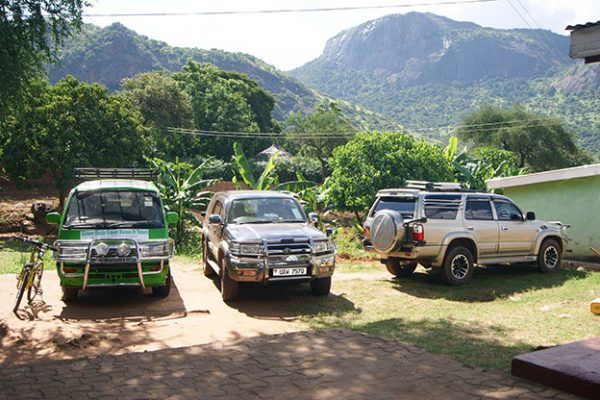 On arrangements Green Oasis Guest House & Tours can provide transport from Entebbe international airport or any location within Uganda at a minimum cost travelling northward with spectacular view of Karuma falls, game reserves, Thick forest, savannah and plain land within 5 hours. One can use public transport from the city centre within 7 hours to arrive in the Guest House with similar view as stated above.
When bookings are made the conditions are as follows.
Cancellation after one week no penalty is considered, cancellation after 3 days 1/2 of deposited amount will be refunded and if cancellation is not made at all no refund will be made. This booking cut across all activities in the Guest House e.g Accommodation,workshops,Parties,etc. "

Tap the Link Below for Tourism.
You have questions regarding our services? Please feel free to contact us. We are always available 24/7.